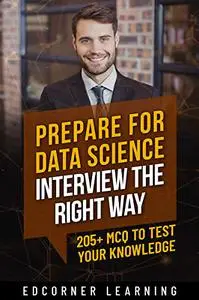 Prepare For Data Science Interview the Right Way: 205+ MCQ to Test Your Knowledge by Edcorner Learning
English | 2022 | ISBN: N/A | ASIN: B0B1Q7H5PQ | 130 pages | EPUB | 0.24 Mb
A career as a Data Scientist is the top job in America, according to Glassdoor! Data Scientists not only earn a terrific salary of over $120,000 on average, but they also get to work on some of the world's most interesting problems! Glassdoor also ranks Data Scientist jobs as having some of the finest work-life balances. Companies are desperate for someone to fill this unique position, and you can utilise this book to ace your Data Scientist interview!
This comprehensive list of crucial data science interview questions and answers could help you land your next dream job by assisting you in your interview preparation.
This book is for anyone interested in a Data Science profession or who wants to prepare for a Data Science interview.
This Book consist of 205+ MCQ's of data science concepts with answers to maintain difficulty level and capture all areas in best way possible.
Please Note answer to each question is on next page of the questions, First try to think answer by yourself and check to confirm your answers.
This book is mainly designed to check your understanding of data scientist concepts and its depth before you appear in the interview, all in all you can improve your performance and knowledge the right way.
Feel Free to contact me for book requests, informations or feedbacks.
Without You And Your Support We Can't Continue
Thanks For Buying Premium From My Links For Support