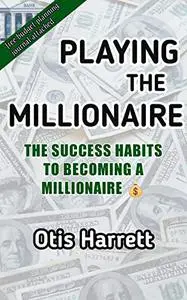 Playing the Millionaire: The success habits to becoming a millionaire by Otis Harrett
English | 2022 | ISBN: N/A | ASIN: B0B18DJDJ3 | 55 pages | EPUB | 0.21 Mb
CAN MERE HABITS MAKE ONE A MILLIONAIRE?
Absolutely! This is how…
Many strive for wealth, but few are wealthy. A lot of people have a great income stream, good enough to make them millionaires in a year but they still find themselves swimming in depts. Wanna know why? Because they lack the SUCCESS HABIT a true millionaire must possess.
Anyone can get a great job or business or source of income but it takes discipline and knowledge of the SUCCESS HABITS of a millionaire to become a millionaire.
Are you wondering if you're cut out for this? We're together. This book, PLAYING THE MILLIONAIRE contains the secrets that every successful human practices, and even steps on how to make it work for you because trust me, it isn't an easy task. That's why
PLAYING THE MILLIONAIRE
not only contains the secret success habits but also guidelines to making the habit sink right into your bone marrow.
Be rest assured that the tips and guidelines in
PLAYING THE MILLIONAIRE
are effective and up to date and can be applied to any occupation to achieve great success.
No age is too young, No age is too old to begin your journey on the ROAD TO MILLIONS…
Feel Free to contact me for book requests, informations or feedbacks.
Without You And Your Support We Can't Continue
Thanks For Buying Premium From My Links For Support