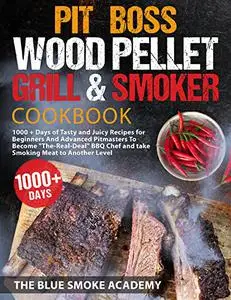 Pit Boss Wood Pellet Grill & Smoker Cookbook: 1000+ Days of Tasty and Juicy Recipes for Beginners and Advanced Pitmasters To Become "The-Real-Deal" BBQ Chef and Take Smoking Meat to Another Level by The Blue Smoke Academy
English | 2022 | ISBN: N/A | ASIN: B0B1J2YXGH | 681 pages | EPUB | 1.81 Mb
Looking to Expand Your Barbecue Skills While Having A Great Time?
Then Arm Yourself with The Ultimate Cookbook for Wood Pellet Grills and Experience
Unique Flavours
of Its Recipes!
Let's face the fact, everyone loves food. It provides us not only the fuel that we need to physically keep going, but also gives us the opportunity to come across AMAZING DELIGHTSin life. Although standard kitchen appliances can produce the final result,
when it comes to grilling, however, it's entirely another story.TAKING THE MEAL PREP OUTDOORS
is often regarded as a
PURE HOLIDAY
,rather than a simple and annoying chore. The peculiar scents coming out of the grill are quite more distinctive than the ones you are getting in an indoor kitchen. And Once You Smell the Aroma… Oh Boy…
You Know That Something Truly Mouth-Watering is Getting Served at The Table…
If you are the type of person who enjoys having fun while trying out various BBQed foods, and escaping unnecessary formalities…
Then Pull Your Wood Pellet Grill Out from The Garage, Set It, Grab A Refreshing Beer, And Sit Back with Good Company, Because This Outstanding Cookbook Will Deliver TONS OF IDEAS YOU CAN EXPERIMENT WITH to Make You
Greatest Pitmaster Among Family and Friends!With the Abundance of Recipes in This GRILLING BIBLE, you will:
>
Get your hands on1000 + DAYS OF FANTASTIC RECIPES to tickle your food receptors and offer a wide range of meat, fish, seafood, and even vegetarian dishes to choose from (from ribs and chicken wings to grilled vegetables and smoked briskets, YOU ARE FULLY COVERED!)
Express Yourself and Your Creativity on The Grill in a way that cannot be replicated by any other kitchen tool (catch on cooking techniques that will make a world of difference)
Host Sounding Feasts with Your Loved Ones and be prepared to serve the best food at the right time (pellet smokers can digitally regulate the temperature, just set it and forget it)
Get A Guide to The Types of Wood Pelletsand how always to choose the one that gives the best flavor to your dishes
… And Many Other Delectable Info!
Having your food done by the oven or the pan would also do the trick, but…
If you are serious about enjoying better tasting food, then do not let this chance pass by.
As these exquisite BBQ recipes are perfect for pit amateurs as well as for renown grill experts, they provide affordable solutions to choose from,
Thus Putting Your Hands On This Cookbook is Simply a No-Brainer!
So What's On Your Pit Today…?
… ORDER YOUR COPY NOW and Pull Out The Stunning Meals !
Feel Free to contact me for book requests, informations or feedbacks.
Without You And Your Support We Can't Continue
Thanks For Buying Premium From My Links For Support