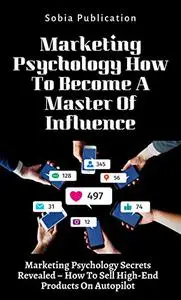 Marketing Psychology How To Become A Master Of Influence: Marketing Psychology Secrets Revealed – How To Sell High-End Products On Autopilot by Sobia Publication
English | 2022 | ISBN: N/A | ASIN: B0B134N29L | 140 pages | MOBI | 0.24 Mb
If you've been desperately looking for world-class marketing strategies and techniques to increase your marketing influence, convert more visitors into leads, drive more sales, and ultimately grow your business, then enrolling and completing this program might be one of the best business decisions you've ever made!
I've analyzed the most successful online entrepreneurs today, their squeeze pages, sales pages, marketing funnels, customer service techniques, conversion techniques, pricing strategies, and what I found was shocking!
Marketing Influence is all about a solid understanding of human psychology and marketing. Once you have that understanding, you will be able to do marketing in a way that your prospects will be begging you to sell them your products.
That's why you have nothing to risk right now but if you find my content makes sense and you actually implement and see results then you will receive lifetime access and I'm sure, this is what will happen, my program will become your most powerful marketing weapon. You are going to love it.
Feel Free to contact me for book requests, informations or feedbacks.
Without You And Your Support We Can't Continue
Thanks For Buying Premium From My Links For Support