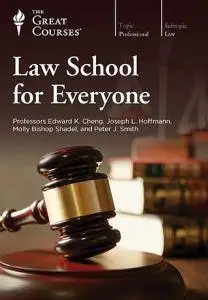 Law School for Everyone
HDRips | M4V/AVC, ~1976 kb/s | 1280x720 | Duration: 25:22:27 | English: AAC, 192 kb/s (2 ch)
Size: 23.0 GB | Genre: Law
To many people, the law is both powerful and mysterious. We depend on lawyers to help us navigate rules, standards, and procedural codes that have been around for hundreds of years. Because we depend on their specialized skills in argumentation, logic, and critical thinking, we may wonder how they come to know so much about the inner workings of the law.
The answer: law school. The refined skills lawyers wield every day in courtrooms across the country are the result of years of study. As much as we'd like to cultivate these very same skills, the truth is that you cannot know how a lawyer thinks and works without studying the law itself.
Even if you have no intention of joining the legal profession, learning how American law works, and how lawyers and judges operate within that law, is a critical part of any well-rounded citizen's understanding of one of the central foundations of the American experiment.
Two things, however, keep many of us from attending law school: money and time. Law school is notoriously costly and typically results in hundreds of thousands of dollars of debt. Also, students are required to give years of their lives to studying how the law works—a commitment that involves tackling mountains of required reading every night.
Law School for Everyone brings four exceptional professors from four of the nation's most distinguished law schools right to you, providing you with much of the foundational knowledge of expert lawyers without the enormous time and financial commitments. Over the span of 48 lectures, these experienced lawyers and teachers recreate key parts of the first-year student experience, introducing you to four main areas of law most every beginning student studies:
litigation and legal practice,
criminal law and procedure,
civil procedure, and
torts.
Enriched with famous cases from the annals of American law, powerful arguments by some of history's most successful lawyers, and Supreme Court rulings that provide insights into how our legal system has evolved since the nation's founding, Law School for Everyone will teach you how to approach the law from the perspective of the best attorneys and high-court judges. Most important: No law degree is required for you to gain access to this intimidating—but surprisingly rich and exciting—field.
The Surveillance State: Big Data, Freedom, and You
Luther: Gospel, Law, and Reformation
Natural Law and Human Nature
Representing Justice: Stories of Law and Literature
Welcome to the best eLearning video (English, German, French, Spanish language) and many more:
LINK
Do not forget to check my blog! Updated regularly! Add in bookmarks my blog :)
PM me if Links not working!
No mirrors pls!