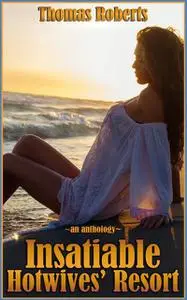 «Insatiable Hotwives' Resort» by Thomas Roberts
English | EPUB | 0.5 MB
Welcome to the Hotwife Voyeur Resort, where horny wives spread their legs for powerful men and where their eager husbands love to watch! But sometimes the delicious agony of living out a kinky fantasy can become too much. What will happen when they return home? Can these wanton couples return to their everyday humdrum lives…or will the craving to be shared with more lusty studs overpower them?
~~~~~ PG Excerpt ~~~~~
We were leaving the cabin when we paused to read the resort "rules."
— No means no. Every person has the right to turn down a request for sex from any other person, and each guest is expected to honor that right without exceptions.
— Regardless of rule #1 and your right as a guest to refrain from having sex with other guests, it's considered rude to refuse every opportunity (wink).
— While it is not always possible to control erections, male guests are encouraged to keep as much control as possible. Some of us don't want to see your hardons.
— Regardless of rule #3, women who cause men to violate the above rule are highly regarded by resort management. Keep 'em up, ladies.
— Clothing is optional except in food service areas.
— Guests engaging in sex in public are going to be watched. If guests don't want to be watched by others, go inside.
— Resort employees have been known to have sex with resort guests if invited and if doing so does not interfere with their duties. Please use discretion.
The list continued with pool and restaurant hours, mundane matters mostly.
Mary turned to me, "I guess our questions are about to be answered. Are you ready?"