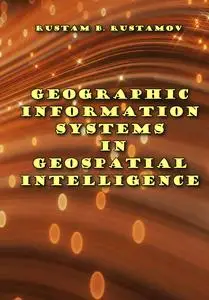 "Geographic Information Systems in Geospatial Intelligence" ed. by Rustam B. Rustamov
ITexLi | 2020 | ISBN: 1838805052 9781838805050 9781838805043 1838805044 9781838805043 9781839691294 1839691298 9781839691294 | 170 pages | PDF | 20 MB
This book considers aspects of GIS technology applications with space science technology and innovation approaches. It examines the potential of Earth observation satellite systems as well as existing challenges and problems in the field.
Earth observation systems, by use of space science and technology advances, present a large-scale opportunity for applying remote sensing methods with geographical information system (GIS) developments. Integrating these two methods makes it possible to achieve high-accuracy satellite data processing.
Chapters cover topics such as RGB-D sensors for autonomous pothole detection, machine learning in GIS, interferometric synthetic aperture radar (InSAR) modeling, and others.
Contents
1. InSAR Modeling of Geophysics Measurements
2. Expanding Navigation Systems by Integrating It with Advanced Technologies
3. A Review of the Machine Learning in GIS for Megacities Application
4. Study of Equatorial Plasma Bubbles Using ASI and GPS Systems
5. Spectral Optimization of Airborne Multispectral Camera for Land Cover Classification: Automatic Feature Selection and Spectral Band Clustering
6. Clustering Techniques for Land Use Land Cover Classification of Remotely Sensed Images
7. Building an Integrated Database of Road Design Elements
8. On the Use of Low-Cost RGB-D Sensors for Autonomous Pothole Detection with Spatial Fuzzy c-Means Segmentation
1st true PDF with TOC BookMarkLinks
More :
You find here