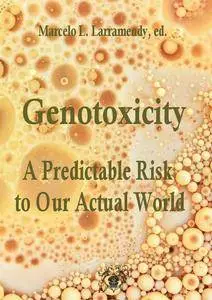 "Genotoxicity: A Predictable Risk to Our Actual World" ed. by Marcelo L. Larramendy
ITExLi | 2018 | ISBN: 1789234190 9781789234190 1789234182 9781789234183 | 113 pages | PDF | 5 MB
This book is designed to provide an overview of the different genotoxicants and their effects on living organisms, including humans. The contributions made by the specialists in this field of research are gratefully acknowledged. The information presented in this book will meet the expectations and needs of all those interested in the different aspects of the genotoxicity field.
The publication of this book is of great importance to those scientists, pharmacologists, physicians and veterinarians, as well as engineers, teachers, graduate students and administrators of environmental programmes, who make use of these investigations to understand both the basic and applied genotoxic aspects of known and new xenobiotics, and to guide them in their future investigations
Contents
1 In Vitro Cytotoxicity and Cell Viability Assays: Principles, Advantages, and Disadvantages
2 DNA Damage in End-Stage Renal Disease Patients. Assessment by In Vitro Comet Assay and by Cell-Free DNA Quantification
3 Genotoxicity Induced by Cypermethrin in the Zebrafish Retina
4 Assessment of Potential Carcinogenicity by Quantitative Structure-Activity Relationship (QSAR)
5 Genotoxicity by Electromagnetic Fields
6 Genotoxic Risk in Human Populations Exposed to Pesticides
1st true PDF with TOC BookMarkLinks