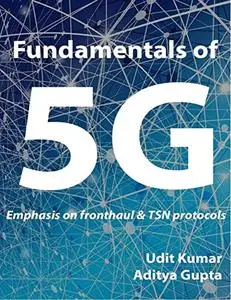 Fundamentals of 5G: Emphasis on fronthaul and TSN protocols by Udit Kumar
English | 2021 | ISBN: N/A | ASIN: B09CJ47V4G | 113 pages | PDF | 2.37 Mb
This book provides details about evolution in radio networks, use-cases, and economic value. It covers fundamentals of wireless communication like modulation, frequency band, beamforming, virtualization, etc. It also covers different radio network evolution from centralized RAN to Open RAN. This book covers wireless communication fundamentals such as modulation, frequency band, beamforming, virtualization, and so on. It also incorporates several other radio network evolutions, such as evolutions from centralized RAN to Open RAN, and so on. This book describes how data is transferred between fronthaul and backhaul network interfaces to improve flexibility and capacity. It provides a thorough overview of different interface protocols such as CPRI, eCPRI, and JESD204. Time Sensitive Networking (TSN) is utilized for fronthaul in critical services with low latency requirements, therefore the protocol Precision Time Protocol (PTP) and Frame Preemption are also discussed in depth.
This book serves as a concise handbook for a range of readers including but not limited to students, engineers, and managers. It can also serve as a foundation kick-start for someone looking to get started with 5G but lacks any prior understanding of wireless communication.
Book Chapters
Chapter 1: Wireless Technology - Over the years
Chapter 2: Back to school with RF
Chapter 3: 5G Network
Chapter 4: 5G Enabling Technologies
Chapter 5: 5G Fronthaul
Chapter 6: CPRI
Chapter 7: eCPRI
Chapter 8: The Precision Time Protocol
Chapter 9: Frame Preemption: 802.3br
Chapter 10: JESD204B and JESD204C
This book has been reviewed and endorsed by leading industry experts.
Feel Free to contact me for book requests, informations or feedbacks.
Without You And Your Support We Can't Continue
Thanks For Buying Premium From My Links For Support