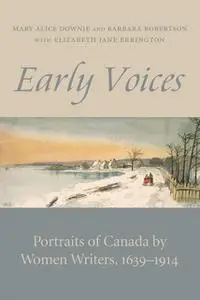 «Early Voices» by Mary Alice Downie
English | EPUB | 3.2 MB
This selection of writings by 29 women, known and unknown, professional and amateur, presents a unique portrait of Canada through time and space, from the 17th to the early 20th century, from the Maritimes to British Columbia and the Far North. There is a range of voices from high-born wives of governors general, to an Icelandic immigrant and a fisherman's wife in Labrador. A Loyalist wife and mother describes the first hard weather in New Brunswick, a seasick nun tells of a dangerous voyage out from France, a famous children's writer writes home about the fun of canoeing, and a German general's wife describes habitant customs. All demonstrate how women's experiences not only shared, but helped shape this new country.