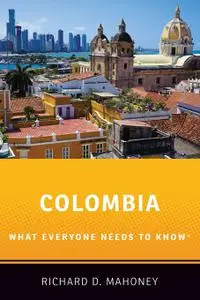 Colombia: What Everyone Needs to Know by Richard D. Mahoney
English | March 6, 2020 | ISBN: 0190262745 | 304 pages | EPUB | 2.70 Mb
Colombia's recent past has been characterized by what its Nobel laureate Gabriel García Marquez once called "a biblical holocaust" of human savagery. Along with the scourge of drug-related massacres facing the country, politically-motivated assassinations (averaging 30 per day in the 1990s), widespread disappearances, rapes, and kidnappings have run rampant through the country for decades. For many Colombians, the violence oft-invoked in today's immigration debate is a bleak and inescapable reality. And yet, with only eleven years of military rule during its 200 some years of independence, Colombia's democratic tradition is among the richest and longest-standing in the hemisphere. The country's economic growth rate over the last 75 years is among the highest in South America, the overall living satisfaction of its citizens is on par with citizens of France, and it is home to some of the continent's best universities and most dazzling fine and industrial arts.
With such contradictions, even to experts, Colombia is one of the most confusing countries in the Americas. In this new addition to the popular What Everyone Needs to Know® series, Richard D. Mahoney links historical legacies, cultural features, and the relentless dynamics of the illegal drug industry to unravel the enigma. He explores the many key issues running through Colombia's history, distinguishing its national experience, and fueling its unquenchable creativity. With concerns surrounding immigration from the US's southern neighbors mounting to new heights, understanding the history and evolution of Colombia has never been more vital.
Feel Free to contact me for book requests, informations or feedbacks.
Without You And Your Support We Can't Continue
Thanks For Buying Premium From My Links For Support