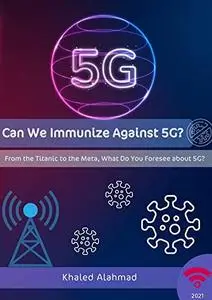 Can We Immunize Against 5G?: From the Titanic to the Meta, What Do You Foresee about 5G? by Khaled Alahmad
English | 2021 | ISBN: N/A | ASIN: B09P1VKW11 | 171 pages | EPUB | 0.60 Mb
Disadvantages of mobile communications are either exaggerated or underestimated, not to mention disregarding them. Avoiding such disadvantages requires recognizing them as intelligible as possible, as early as possible, as they are getting more diverse, horrible, and destructive with the successive rollouts of the Gs of mobile communications.
How far you are aware of the Gs' disadvantages? Can you avoid those you have recognized?
Getting rid of mobile communications services is becoming a myth! We have to deal with them carefully. Several studies, methodologies, experiences, and arguments have been presented, and still, to deal with harms of mobile communications, including calls for eliminating and deleting some of the most spread services of contemporary Gs. However, almost all of such calls came in the twenty-fifth hour. How many people have predicted smartphone addictions?
Is it possible to predict any forthcoming dangers of the next G, in order to be aware of them, and prepare to guard against them?
The book presents an overview of some of the widely recognized disadvantages of mobile communications within an overall view of technical aspects of the Gs. Technical aspects may help recognize and more accurately define the harms. An example about that is the traditional question: Concerning the danger of electromagnetic field exposure, which is more dangerous, that caused by the base station or the mobile phone?
5G has much of terrifying disadvantages that have not been recognized enough yet. As 5G has been steadily approaching and began to penetrate fiercely, we still evaluate it in the traditional way as higher speeds, lower latencies…Meanwhile, it is going to change life dramatically. Gesture, heartbeats, and very private personal data to be over the network, everything, not only things, to be operated via the internet, sovereignties of countries are threatened…
After a quick tour on the traditional disadvantages of the Gs, the author presents some of the major technical aspects of 5G, and ends with a fateful question, calling you to present your prospective precautions about the 5G's disadvantages you foresee.
Feel Free to contact me for book requests, informations or feedbacks.
Without You And Your Support We Can't Continue
Thanks For Buying Premium From My Links For Support