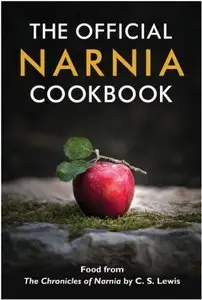 Douglas Gresham, "The Official Narnia Cookbook"
English | ASIN: B00FOOH6E0 | 2013 | 188 pages | EPUB | 8 MB
The only OFFICIAL Narnia cookbook! Explore over 60 illustrated recipes inspired by the classic fantasy series, The Chronicles of Narnia, including the prize-winning recipe from the Narnia Nosh and Recipe global contest.
Illustrations in this ebook appear in vibrant full colour on a full colour ebook device, and in rich black and white on all other devices.
From the White Witch's spellbinding Turkish Delight to the centaurs' mouthwatering oatcakes and the Dryads' favourite gooseberry fools, each recipe in The OFFICIAL Narnia Cookbook is a culinary tribute to the overwhelming influence The Chronicles of Narnia has had on generations of readers.
With anecdotes by C.S. Lewis's stepson, Douglas Gresham, and illustrations by the original artist, Pauline Baynes, this is a delicious way to expand your journey into Narnia whether you are a fan of the books or like to cook and read about food. See the contest-winning recipe and then try your hand at Narnia nosh of your own.
Enjoy these treats with any or all of the seven books from The Chronicles of Narnia — The Magician's Nephew, The Lion, the Witch and the Wardrobe, The Horse and His Boy, Prince Caspian, The Voyage of the Dawn Treader, The Silver Chair, and The Last Battle.