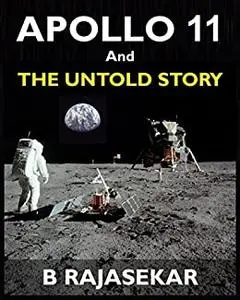 APOLLO 11 AND THE UNTOLD STORY by B RAJASEKAR
English | September 26, 2022 | ISBN: N/A | ASIN: B0BGL5ZVSB | 144 pages | EPUB | 10 Mb
All Earth-based objects dimensionally expand when moving away from the Earth and they are about 10 times larger on reaching the Moon. The dimensional changes reverse when the objects return to the Earth.
However, the astronauts themselves had not noticed this fabulous phenomenon. As the astronauts blissfully unaware the dimensional changes occurred to them, they had the acute problem of judging distances and sizes on the Moon. This led to many instances of wrong identification of the Moon's craters and the landing spot of the spacecraft in which the astronauts had been deceived by the Moon.
During the final landing moments, Neil Armstrong found that the spacecraft was about to land on the 600-foot wide football field size rocky crater with a 100 foot high hill as rim. He overflew the crater for a distance 1100-1200 feet and safely landed on a level surface. After setting foot on the Moon, he had expected to see the hill of that large crater as he crossed only 1100-1200 feet. But he could not find the 100 foot high hill in the east direction where it was supposed to be. Instead he had seen a small crater in the expected direction. Throughout his life, this was an unsolved mystery for him. He expressed his anguish in many interviews. Why could not Armstrong see a 100 foot high hill on a level surface? How did the Moon deceive him?
The NASA scientists on the Earth monitoring their progress also did not know that the astronauts were 60-foot high while on the Moon and therefore, the traverse maps prepared by the NASA scientists of the Apollo era were wrong.
This is the only book that tells the actual traverse of the Apollo 11 mission, the correct spacecraft landing location and the real happenings during the Apollo 11 mission the public deserves to know.
Feel Free to contact me for book requests, informations or feedbacks.
Without You And Your Support We Can't Continue
Thanks For Buying Premium From My Links For Support