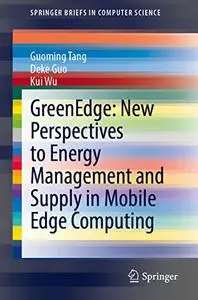 GreenEdge: New Perspectives to Energy Management and Supply in Mobile Edge Computing by Guoming Tang
English | EPUB | 2022 | 119 Pages | ISBN : 9811696896 | 11 MB
The 5G technology has been commercialized worldwide and is expected to provide superior performance with enhanced mobile broadband, ultra-low latency transmission, and massive IoT connections. Meanwhile, the edge computing paradigm gets popular to provide distributed computing and storage resources in proximity to the users. As edge services and applications prosper, 5G and edge computing will be tightly coupled and continuously promote each other forward.
Embracing this trend, however, mobile users, infrastructure providers, and service providers are all faced with the energy dilemma. On the user side, battery-powered mobile devices are much constrained by battery life, whereas mobile platforms and apps nowadays are usually power-hungry. At the infrastructure and service provider side, the energy cost of edge facilities accounts for a large proportion of operating expenses and has become a huge burden.
This book provides a collection of most recent attempts to tackle the energy issues in mobile edge computing from new and promising perspectives. For example, the book investigates the pervasive low-battery anxiety among modern mobile users and quantifies the anxiety degree and likely behavior concerning the battery status. Based on the quantified model, a low-power video streaming solution is developed accordingly to save mobile devices' energy and alleviate users' low-battery anxiety. In addition to energy management for mobile users, the book also looks into potential opportunities to energy cost saving and carbon emission reduction at edge facilities, particularly the 5G base stations and geo-distributed edge datacenters.
Without You And Your

Support

We Can't Continue
Thanks For Buying Premium From My Links For

Support