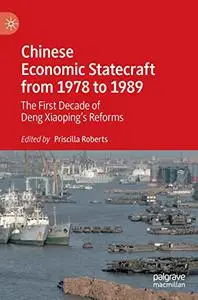 Chinese Economic Statecraft from 1978 to 1989: The First Decade of Deng Xiaoping's Reforms by Priscilla Roberts
English | EPUB | 2022 | 479 Pages | ISBN : 9811692165 | 1.7 MB
This volume focuses on Chinese economic statecraft during the first decade of Deng Xiaoping's reform and opening-up policies, from 1978 to 1989. During these years, Chinese economic engagement with the external world was tentative and experimental, with long-term strategies still decidedly under development.
Prominent topics covered are China's efforts to steer an economic course tailored to and representing what Deng Xiaoping famously described as "socialism with Chinese characteristics"; China's quest for advanced science and technology; China's dealings with international economic institutions, especially the World Bank; China's engagement with other powers, including Japan, the United States, the ASEAN nations, and Europe; and the role of non-governmental organizations, including foreign policy think tanks, exchange groups, and educational institutions, in developing Chinese economic thinking and methodology during this decade.
Contributors also focus on how elements of the Chinese military turned to building China's new economic infrastructure, and on Chinese efforts to break into foreign markets. The volume ends with an overview and reassessment of earlier findings on Chinese economic statecraft in these years, by one of the leading Chinese experts on the PRC's international policy.
Without You And Your

Support

We Can't Continue
Thanks For Buying Premium From My Links For

Support