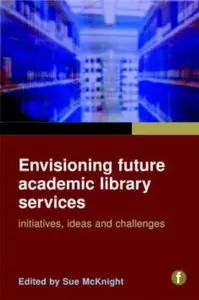 Envisioning Future Academic Library Services: Initiatives, Ideas and Challenges By Sue McKnight, Sue McKnight
2010 | 288 Pages | ISBN: 1856046915 | PDF | 1 MB
As a modern day librarian in a rapidly changing information environment, you must be able to adapt your professional skill set and experience to a multitude of new and varied practices, business models, and strategic challenges. Edited by Sue McKnight, this new collection will help you generate forward-looking strategies and innovative thinking so your institution s services and practices will align with the changing demands of the academic community and the work environment. Renowned contributors offer compelling ideas from a number of perspectives, including those of authors, publishers, academics, librarians and institutions, and students. The cover such crucial topics as: Engaging in and support eLearning;Managing institutional knowledge and information strategically; Supporting students and academic staff in the virtual learning space, the library and on the web; Acquiring, managing, and providing access to information that is not part of traditional library service; Funding and new service paradigms. This book is essential reading for all library leaders and educators who wish to add real value to their organization by thinking strategically and in ways that inform decision making at an operational level. It will also be of great value to academic administrators and government policy analysts involved with learning and teaching.