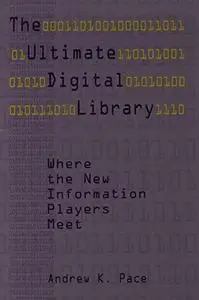 The ultimate digital library: where the new information players meet By Andrew K. Pace
2003 | 188 Pages | ISBN: 0838908446 | PDF | 3 MB
There are no two ways about it: the Internet presents a challenge to librarians and information providers everywhere. "Googling" and "Asking Jeeves" are often easier options than heading to the local library for answers to research questions. How can libraries be viewed as another, perhaps more useful search engine? Librarian and former technology vendor Andrew Pace draws from successful and failed Internet service models, and explores complicated library-vendor relationships to show you how you can beef up customer satisfaction. This manual advocates that libraries shift their current practices and create collaborative and win-win partnerships with vendors to provide better and more forward-looking services. Pace presents some extreme views and suggests radical changes on how libraries can stay competitive in the new digital arena and starts the dialogue that can lead to lasting change. This unconventional and provocative look explores: what libraries can learn from the heady rise and crushing fall of the dot-coms; how library-vendor partnership can result in better automation products; and how to maintain privacy principles at the heart of the library's mission.