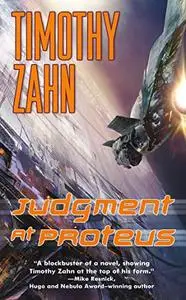 Judgment at Proteus By Timothy Zahn
2013 | 528 Pages | ISBN: 0765361949 | EPUB | 1 MB
The climactic novel of the star-spanning Quadrail space opera In Timothy Zahn's Judgment at Proteus, the Quadrail that connects the twelve civilizations of our galaxy has been the flashpoint of a battle for dominance fought mostly unnoticed by humankind. But Frank Compton of Earth, aided by the enigmatic woman Bayta, has fought on the front lines, using every bit of his human ingenuity and secret agent skills to outwit the Modhri, a group intelligence that would control the minds of every sentient being it can touch. Following a trail of deception and death to Proteus Station, Compton has discovered a conspiracy that threatens all life in the galaxy: the Shonkla'raa, an ancient enemy thought to be long dead, is rising again. So serious is the danger that the Modhri, the enemy of his enemy, may now be his friend, as the burgeoning threat of a race of invincible soldiers emerges. If Compton and Bayta can't stop them, the Shonkla'raa will decimate all who oppose them, destroying the Quadrail and billions of lives throughout the galaxy.