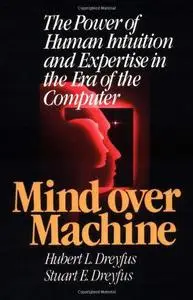 Mind Over Machine By Hubert Dreyfus, Stuart E. Dreyfus
2000 | 252 Pages | ISBN: 0743205510 | PDF | 17 MB
Computers are being used more and more in all aspects of our lives and, programmed correctly, they are more accurate and precise than humans can ever be. Here, however, the myth of the superiority of artificial intelligence is examined and dispelled. The authors, one a philosopher and the other a computer scientist, argue that even highly advanced systems only correspond to the very early stages of human learning and that there are many human skills that computers will never be able to emulate. The mind will always be superior to the machine. To illustrate their point, they set forth a model documenting five distinct levels - novice, advanced beginner, competent, proficient and expert - through which human beings pass in acquiring and mastering a skill. The two final stages require a degree of intuitive intelligence far beyond the most ambitious projects being planned for the future. The authors acknowledge the huge progress made by computers and the massive advantages to be gained from using them, but they stress that their value can only lie in their use as aids, never as substitutes for the human mind.