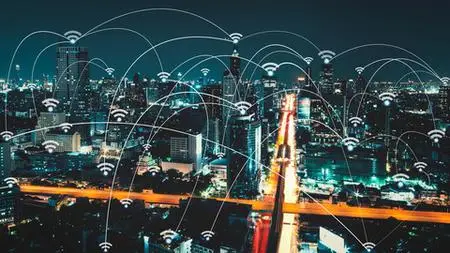 5G: Technologies, Architecture And Protocols
Duration: 6h 36m | .MP4 1280x720, 30 fps(r) | AAC, 44100 Hz, 2ch | 1.13 GB
Genre: eLearning | Language: English
5G Air Interface Channels, Voice Over 5G, Security in 5G, NG-RAN, 5G Core, 5G Explained according to 3GPP specifications
What you'll learn:
Everything they need to know to get started with 5G
Standardization of 5G
5G Use Cases-Enhanced Mobile Broadband, Massive Machine Type Communication, URLLC
5G Deployment Options-Standalone Vs Non-standalone Architectures
Dual Connectivity in 5G Networks
Small Cells With Dual Connectivity in 5G Technology
5G Frequency Spectrum in 5G Networks
Flexible Numerology And Frame Structure
5G Cloud Radio Access Network (CRAN)
Massive MIMO AND Beam-forming in 5G
5G Access Network Architecture
5G Core Network Architecture
Network Function Virtualization
Network Slicing
UE Identifiers-PEI, SUPI, SUCI, 5G-S-TMSI, 5G-GUTI
Tracking Areas in 5G
5G Network Identifiers
5G Network Procedures
Requirements:
Basic understanding of telecommunications
Principles of wireless communications
Understanding of GSM, 3G or 4G is a plus but not required
Description:
This is a very extensive and up-to-date course about 5G mobile networks that will let you understand
- The requirements and key drivers for 5G wireless development
- 5G use cases and services
- the key technologies in 5G NR (Dual Connectivity, small Cells, CRAN, Flexible Numerology, massive MIMO etc)
- 5G Radio Access Technology And Frame Structure
-Network Virualization and Slicing in 5G
-The Key elements/Functions in 5G Core Network
-UE and Network Identifiers in 5G
-Procedures in 5G (UE Registeration, PDU Session establishment, Paging, Tracking Area Update, Handover)
-Handover in 5G, Xn and X2 
-5G Service Based Architecture
-Network Slicing
-Security in 5G Mobile Networks
-Voice Over 5G
-5G UE State Management
-5G PDU Session Types, Attributes and Quality of Service (QoS) 
- 5G Air Interface Channels, Cell Acquisition, Data Scheduling, Paging etc
This 5G training is comprehensive and concise, and it is designed to explain the complex concepts in easy to understand manner, so that you may get started with this 5G cellular technology as soon as possible. This course is designed to provide you with necessary functional knowledge possible in shortest possible time.
The course comes with 100% MONEY-BACK GUARANTEE.
This course is targeted for:
Telecom Professionals
Telecom students
Students trying to enter the field of telecommunications
Network Professionals
Students of wireless communications
People preparing for interview in the field of 5G
Network Engineers
Who this course is for:
Network and system engineers who want to pursue their carrier in Telecom Industry
Students and working professionals who want understanding of 5G systems.
Anyone who want to learn protocols and procedures involved in 5G systems.
Anyone who want to upgrade their skills for better job.
More Info