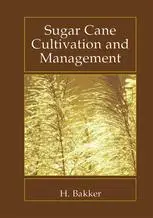 Sugar Cane Cultivation and Management By H. Bakker (auth.)
1999 | 679 Pages | ISBN: 1461371414 | PDF | 67 MB
This volume is intended for reference by the commercial sugar cane grower. Disciplines are covered for the successful production of a sugar cane crop. A number of good books exist on field practices related to the growing of sugar cane. Two examples are R.P. Humbert's The Growing of Sugar Cane and Alex G. Alexander's Sugarcane Physiology. Volumes of technical papers, produced regularly by the International Society of Sugar Cane Technologists, are also a source of reference. Perhaps foremost, local associations, such as the South African Sugar Technologists' Association, do excellent work in this regard. In my forty-five years of experience with the day-to-day problems of producing a satisfactory crop of sugar cane, deciding what should be done to produce such a crop was not straightforward. Although the literature dealing with specific subjects is extensive, I tried to consolidate some of the material to provide the man in the field with information, or an overview of the subject matter.