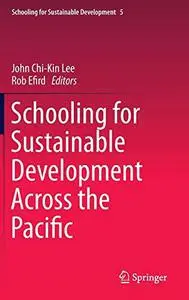 Schooling for Sustainable Development Across the Pacific By John Chi-Kin Lee, Rob Efird (eds.)
2014 | 300 Pages | ISBN: 9401788650 | PDF | 3 MB
Environmental education (EE) and education for sustainable development (ESD) are asserting their growing role in curricula around the world, yet how deeply embedded are they in the learning systems of the Pacific nations? Building on an earlier analysis in China and Taiwan, this volume expands its purview to examine the quality and extent of environmental and sustainable development education in a number of countries in the Asia-Pacific region, including China itself, Taiwan, South Korea, Japan and Indonesia. As well as offering detailed national analyses provided by Asian-Pacific academics and professionals, this work includes examples in the US and Canada and an introduction that assesses the contrasting challenges and positive commonalities among diverse education systems.The chapters reflect leading-edge practice, innovation, and depth of experience and at the same time as detailing locally relevant and culturally appropriate strategies they also provide clear models and strategies for expanding the application and influence of education for sustainable development elsewhere. In doing so, they mirror the global nature of environmental issues as well as the local nature of the solutions.