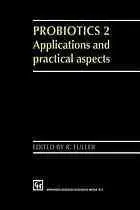 Probiotics 2: Applications and practical aspects By R. Fuller (auth.), R. Fuller (eds.)
1997 | 212 Pages | ISBN: 9401064768 | PDF | 23 MB
R. Fuller 1.1 DEVELOPMENT OF COMMERCIAL PREPARATIONS The history of the probiotic effect has been well documented many times previously (see e.g. Bibel, 1982; Fuller, 1992). The consumption of fermented milks dates from pre-biblical times but the probiotic concept was born at the end of the last century with the work of Metchnikoff at the Pasteur Institute in Paris. In the century that has elapsed since Metchnikoff's work, the probiotic concept has been accepted by scientists and consumers throughout the world. Attempts to refine the practice from the use of traditional soured milks to preparations containing specific micro­ organisms have occupied the thoughts and endeavours of scientists in many different countries. But, in spite of the large amount of effort expended in attempting to explain and define the effect, it has to be admitted that little is known of the way in which probiotics operate. There are likely to be several different mechanisms because it seems highly improbable that a mode of action that explains resistance to microbial infection will also hold true for improved milk production or alleviation of lactose malabsorption.