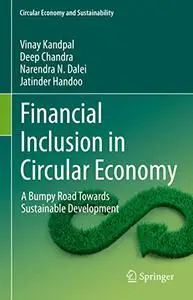 Financial Inclusion in Circular Economy: A Bumpy Road Towards Sustainable Development
English | 2023 | ISBN: 3031227220 | 218 Pages | PDF (True) | 5.2 MB
This book presents an assessment of endeavors towards Financial Inclusion and its role in Sustainable development. An attractive feature is that it deals with almost all the contemporary issues essential for reaching UN Sustainable Development Goals. This book would be an exclusive and authentic source to the students of undergraduates, postgraduates and professional courses in Commerce and Management. This manuscript is divided into nine chapters.