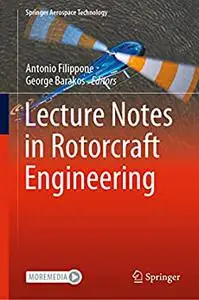 Lecture Notes in Rotorcraft Engineering
English | 2023 | ISBN: 3031124367 | 416 Pages | PDF EPUB (True) | 51 MB
This textbook is a multi-disciplinary compendium that includes several aspects of rotorcraft technology. It introduces the reader to the aerodynamic aspects of rotary wings and presents experimental techniques for aerodynamics. The chapters also cover rotorcraft engines and rotorcraft steady-state flight performance and stability. It explores several aspects of the tiltrotor configuration and lists challenges in their design, modelling and simulation. The reader will also find an introductory overview of flight control systems for rotorcraft, as well as the conceptual and preliminary design concepts for a conventional helicopter. This textbook contains video recordings of computer simulations that can be used alongside the main text.