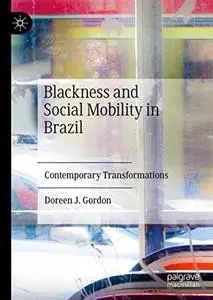 Blackness and Social Mobility in Brazil: Contemporary Transformations by Doreen Joy Gordon

English | EPUB | 2022 | 294 Pages | ISBN : 3030907643 | 4.5 MB
This book examines the emergence of the black middle classes in urban Brazil, after 30 years of black mobilization and against the backdrop of deep economic, cultural, and political transformations taking place in recent decades within the country. One of the consequences of such transformations is said to be the restructuring of gender, race, and class relations.
Utilizing qualitative research techniques such as ethnography, interviews, life histories, and focus groups among Afro-descendant families in the Northeast region of the country, the book explores contemporary race, class, and gender inequalities and their impact on daily lived experience. It reveals the dynamics underlying upward mobility, the diverse modes and experiences of social ascent into the middle classes, and the everyday negotiations involved in establishing one's status in the socio-racial hierarchy, which are not captured by other, more "macro" lenses.
While some of these patterns are not peculiar to black people, this book argues that "race" shaped the contours and possibilities of social mobility in particular ways. This book is critical reading for specialists in the fields of inequality and race, class, and gender relations.
i will be very grateful when you

Support

me and buy Or Renew Your Premium from my Blog links
i appreciate your

Support

Too much as it will help me to post more and more

Visit My Blog For Daily Very Exclusive Content,We Are Here For You And Without You And Your

Support

We Can't Continue Thanks For Buying Premium From My Links For

Support