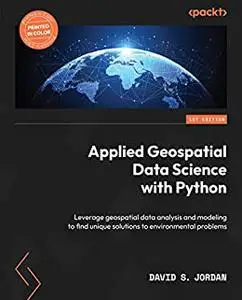 Applied Geospatial Data Science with Python:
Leverage geospatial data analysis and modeling to find unique solutions to environmental problems
English | 2023 | ISBN: 9781803238128 | 453 Pages | EPUB (True) | 22 MB
Data scientists, when presented with a myriad of data, can often lose sight of how to present geospatial analyses in a meaningful way so that it makes sense to everyone. Using Python to visualize data helps stakeholders in less technical roles to understand the problem and seek solutions. The goal of this book is to help data scientists and GIS professionals learn and implement geospatial data science workflows using Python.