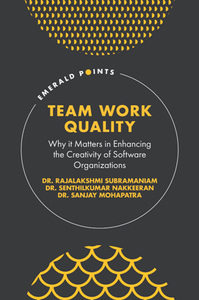 Team Work Quality : Why It Matters in Enhancing the Creativity of Software Organizations
by Rajalakshmi Subramaniam, Senthilkumar Nakkeeran
English | 2021 | ISBN: 1801172633 | 142 Pages | True PDF | 2.32 MB
Software organizations in South Asia have particular organizational cultures and hierarchies, where teamwork and creativity are essential. Investigating research methodologies and collected data from team leaders across these industries, Team Work Quality subjects them to statistical analysis in order to infer how team work quality contributes towards the enhancement of creativity with respect to software organizations.
Team Work Quality, a very recent term being widely applied in software organizations across the world now, has been measured in this book using Weimar's model of Team Work Quality. The relationship of five team characteristics namely, team size, team age, team ethnicity, team role and tenure of the team leader, on the relationship between 'Team Work Quality' and 'Creativity is also explored in this book.
Strategies are also offered to software organizations for improving their levels of organizational creativity, through enhancement of Team Work Quality thereby helping its readers in creating a better work environment.