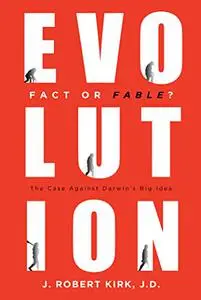 Evolution Fact or Fable?: The Case Against Darwin's Big Idea by J Robert Kirk J D
English | ISBN: 1638853185 | 162 pages | EPUB | June 24, 2022 | 2.80 Mb
This book distills twenty-five-plus years of personal study done by a Harvard Law-trained trial attorney to determine whether Darwin's big idea—the notion that more complex species evolved from more simple ancestors—is supported by the scientific evidence. Spoiler alert: it is not. Yet most Americans have been taught to believe that Darwin's theory has been proven beyond all reasonable doubt. Sadly, most people do not have nearly enough time to do the reading and study necessary to understand that this belief is false.
This book changes all that. It is unique in that it presents technical information from more than a dozen important books in a form that is both brief and easily understood. Readers can learn a series of decisive truths about Darwin's big idea in just a few hours…truths that may well take them completely by surprise.