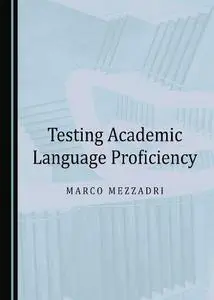 Testing Academic Language Proficiency by Marco Mezzadri
English | 2017 | ISBN: 1527502945 | 140 pages | PDF | 1 MB
This book focuses on the development of the process of teaching and assessing foreign language competence for study purposes in a pluricultural and plurilingual context. It addresses not only the individual who is learning the language for academic purposes (LAP), but also other stakeholders, like teachers, schools and universities, and external boards, such as examination boards for language testing. The book highlights an ongoing research project at the University of Parma, Italy, aimed at developing teaching programs and evaluative tools for language for academic purposes. Starting from a reflection upon the nature of language for study purposes stemming from the tradition of English for Academic Purposes, it describes the model of an LAP test implemented in Italian secondary schools and universities, and shows the findings concerning the performance in the test of both students whose mother tongue is Indo-European and those who speak non-Indo-European languages.
My nickname -
interes