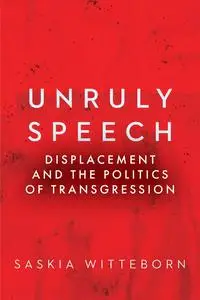 Unruly Speech: Displacement and the Politics of Transgression (Globalization in Everyday Life) by Saskia Witteborn
English | January 17, 2023 | ISBN: 150363339X, 1503634302 | True EPUB/PDF | 250 pages | 6.3/11.8 MB
Unruly Speech explores how Uyghurs in China and in the diaspora transgress sociopolitical limits with "unruly" communication practices in a quest for change. Drawing on research in China, the United States, and Germany, Saskia Witteborn situates her study against the backdrop of displacement and shows how naming practices and witness accounts become potent ways of resistance in everyday interactions and in global activism.
Featuring the voices of Uyghurs from three continents, Unruly Speech analyzes the discursive and material force of place names, social media, surveillance, and the link between witnessing and the discourse on human rights. The book provides a granular view of disruptive communication: its global political moorings and socio-technical control. The rich ethnographic study will appeal to audiences interested in migration and displacement, language and social interaction, advocacy, digital surveillance, and a transnational China.