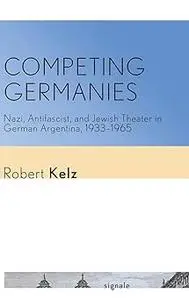 Robert Kelz, "Competing Germanies: Nazi, Antifascist, and Jewish Theater in German Argentina, 1933–1965 "
English | ISBN: 1501739859 | 2020 | 372 pages | PDF | 4 MB
Following World War II, German antifascists and nationalists in Buenos Aires believed theater was crucial to their highly politicized efforts at community-building, and each population devoted considerable resources to competing against its rival onstage. Competing Germanies tracks the paths of several stage actors from European theaters to Buenos Aires and explores how two of Argentina's most influential immigrant groups, German nationalists and antifascists (Jewish and non-Jewish), clashed on the city's stages. Covered widely in German- and Spanish-language media, theatrical performances articulated strident Nazi, antifascist, and Zionist platforms. Meanwhile, as their thespian representatives grappled onstage for political leverage among emigrants and Argentines, behind the curtain, conflicts simmered within partisan institutions and among theatergoers. Publicly they projected unity, but offstage nationalist, antifascist, and Zionist populations were rife with infighting on issues of political allegiance, cultural identity and, especially, integration with their Argentine hosts.
Read more