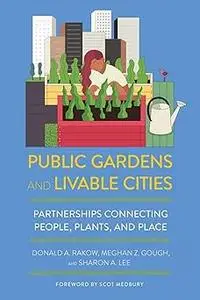 Donald A. Rakow, "Public Gardens and Livable Cities: Partnerships Connecting People, Plants, and Place"
English | ISBN: 1501702599 | 2020 | 222 pages | PDF | 12 MB
Public Gardens and Livable Cities changes the paradigm for how we conceive of the role of urban public gardens. Donald A. Rakow, Meghan Z. Gough, and Sharon A. Lee advocate for public gardens as community outreach agents that can, and should, partner with local organizations to support positive local agendas.
Safe neighborhoods, quality science education, access to fresh and healthy foods, substantial training opportunities, and environmental health are the key initiative areas the authors explore as they highlight model successes and instructive failures that can guide future practices.
Read more