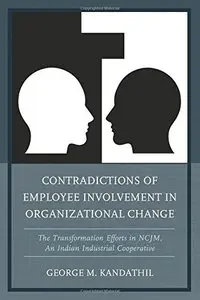 Contradictions of Employee Involvement in Organizational Change: The Transformation Efforts in NCJM, An Indian Industrial Cooperativeby George M. Kandathil
English | 2015 | ISBN: 1498505678 | 192 pages | PDF | 2 MB
This monograph narrates the decade-long struggle of workers, unions, and management in transforming one of the largest ailing family-owned jute businesses in India, into a sustainable worker-owned and governed cooperative. It focuses on the variation in the three groups' involvement in the transformation. It begins with the employees' struggles in taking over the business, deserted by its owners, to save their jobs.
The study analyzes the tensions between the three groups in creating and maintaining democratic governance that would sustain the initial leap in employee participation in the transformation. The analysis reveals contradictions at multiple levels, starting with the unexpected outcome of information sharing with workers: increased information sharing by management resulting in decreased employee involvement. The study explains this paradox by showing that for workers, information has a symbolic nature and information sharing is a signal of their trustworthiness in the assessment of those who are privy to the information. This means involvement is contingent upon the feeling that the information that workers consider crucial is being shared with them. However, what workers consider crucial, and thus a symbol of trust, changes over time as the nature and breadth of their involvement evolves. Thus, worker expectation as well as management and union expectation of information sharing evolves. However, the evolution has the potential to create a mismatch between the two expectations that might lead to contradictions in employee involvement. While for management, information sharing is an instrument in eliciting involvement, and thus management's expectation of information sharing goes through an instrumental loop, for employees, information sharing is a matter of trust, and thus their expectation of information sharing goes through an institutional trust-based loop.
To sustain high employee involvement, the organization should ideally institutionalize the trust-based loop and avoid engaging with the instrumental loop. The author proposes a collaborative approach to organizational transformation that will help deal with the contradictions more effectively, sustaining employee involvement in the transformation. The author also discusses the implications of these propositions for academic scholarship and organizational practices and situates them in the ongoing attempts to reform Industrial Disputes Act in India.