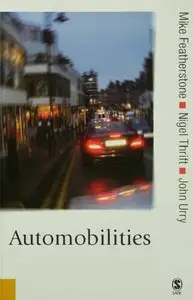 Automobilities (Published in association with Theory, Culture & Society) by Mike Featherstone, Nigel Thrift and John Urry
English | May 18, 2005 | ISBN-10: 1412910897 | 288 pages | PDF | 9,6 MB
Mobility - flows, movement and migration in social life - has emerged as a central area of sociological debate, yet one of its most dominant forms, automobility, has remained largely ignored.
Edited by three leading social analysts, Automobilities presents one of the first and most wide-ranging examinations of the car and its promise of autonomy and mobility. Drawing on rich empirical detail, from ethnographies of office work on the motorway to the important of the car in French cultural theory, the contributions demonstrate just how significant have been the economic, technological, social and political consequences of a pervasive and accelerating culture of the car.
My nickname -
interes