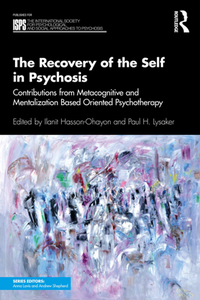 The Recovery of the Self in Psychosis : Contributions From Metacognitive and Mentalization Based Oriented Psychotherapy
by Ilanit Hasson-Ohayon and Paul H. Lysaker
English | 2021 | ISBN: 1138598216 | 233 Pages | True ePUB | 2.28 MB
The Recovery of the Self in Psychosis details specific therapeutic approaches as well as considers how treatments can be individually tailored and adapted to help persons whose mental health challenges may be either mild or more severe. By focusing on basic elements of the experiences of persons diagnosed with psychosis and exploring the broader meanings these experiences have, each of these treatments offers distinctive ways to help persons define and manage their own recovery. The book includes measurable therapeutic processes, an empirically supported conceptual basis for understanding disturbances in self-experience and rich descriptions of the recovery process.
The Recovery of the Self in Psychosis moves beyond approaches which dictate what health is to persons with psychosis through education. It will be essential reading for all clinical psychologists and psychotherapists working with people diagnosed with psychosis.