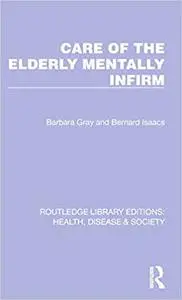 Barbara Gray, "Care of the Elderly Mentally Infirm "
English | ISBN: 1032256710 | 2022 | 230 pages | PDF | 12 MB
Originally published in 1979, this book explains why so many people suffer behavioural changes in later life; how this affects those around them; the services that exist to assist older people and those who work with them and how such services can be profitably used. A recurring theme is the interaction of the different varieties of mental illness with one another and with physical, emotional, social and personality factors. The book provides detailed guidance for social workers caring for the elderly on such topics as how an assessment of a mentally disturbed older person can be made; procedure for removal from home under a court order and compulsory admission to hospital; ways of communicating with elderly people and gauging the needs of relatives and carers.
Read more