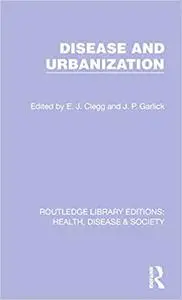 E. J. Clegg, "Disease and Urbanization "
English | ISBN: 1032253169 | 2022 | 180 pages | PDF | 9 MB
Originally published in 1980, this book focusses attention on various aspects of disease ecology. A series of contrasts appear, between urban and rural, temperate and tropical, and affluent and poor communities. These socio-geographical contrasts are related to a further dichotomy between infectious (usually acute) diseases, and non-infectious (usually chronic) ones. The first part of the book is largely concerned with infectious disease, such as malaria and gastroenteritis, in rural/tropical/poor communities. The second discusses the often-antithetical combination of chronic disease in urban/temperate/affluent populations.