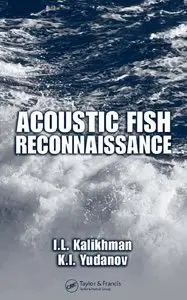 Acoustic Fish Reconnaissance (Marine Science) by I.L. Kalikhman
English | 2006 | ISBN: 0849323339 | PDF | 272 pages | 5,2 MB
Until now, there has not been any work that systematically presents the subject of acoustic fish reconnaissance, details all major aspects of applying acoustic equipment in commercial fish reconnaissance, and offers sufficient analysis of the effectiveness of fish-finding techniques.
Acoustic Fish Reconnaissance responds to this need by providing the first overview of the theoretical and practical aspects of acoustic search, detection, interpretation, and population estimation for commercial benefit.
This book pays particular attention to the theory and practice of accounting surveys for quantitative estimation of biological resources and fishing conditions in traditional fishing areas. It also analyzes various applications of acoustic technique, based upon the authors' extensive investigations. The text includes the results of the applicability of fish-finding instruments, and offers recommendations on the development of improved acoustic techniques for commercial fleets.
My nickname -
interes