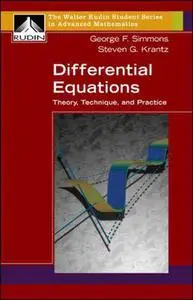 Differential Equations: Theory, Technique, and Practice By George Simmons, Steven Krantz
2006 | 544 Pages | ISBN: 0072863153 | PDF | 41 MB
This traditional text is intended for mainstream one- or two-semester differential equations courses taken by undergraduates majoring in engineering, mathematics, and the sciences. Written by two of the world's leading authorities on differential equations, Simmons/Krantz provides a cogent and accessible introduction to ordinary differential equations written in classical style. Its rich variety of modern applications in engineering, physics, and the applied sciences illuminate the concepts and techniques that students will use through practice to solve real-life problems in their careers. This text is part of the Walter Rudin Student Series in Advanced Mathematics.