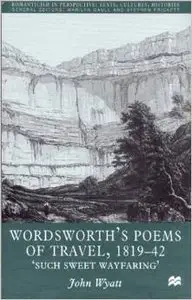 Wordsworth's Poems of Travel, 1819-42: Such Sweet Wayfaring by John Wyatt
English | Aug 14, 1999 | ISBN: 0312221134 | 184 Pages | PDF | 8,2 MB
There is a long-held view that Wordsworth's inspirations dried up before the age of forty. This book opposes that view by examining the substantial body of poetry written after his fiftieth year. The argument is that, in order to appreciate this work, much of which was inspired by itineraries in Britain and in Europe, we have to read the poems as they were first published. By adopting the perspective of the contemporary reader, Wordsworth's grand design can be appreciated.
Review:
'Wyatt assiduously reads these later works in the original sequence and emphasizes their relationship to other poems and prints with which they wer published.' - Toby R. Benis, The Wordsworth Circle 'Wordsworth's Poems of Travel is clearly written, detailed, and particularly effective in producing a desire in the reader to reread, or encounter for the first time, these neglected works.'
- Times Literary Supplement