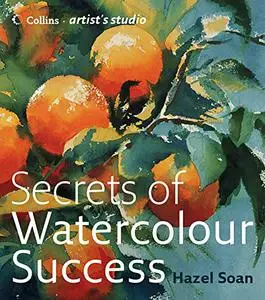 Secrets of Watercolour Success (Collins Artist's Studio) by Hazel Soan
English | June 1, 2006 | ISBN: 0007194463 | True EPUB | 128 pages | 264 MB
In this beautifully illustrated book in Collins Artist's Studio series well-known artist Hazel Soan reveals 9 key secrets of watercolour painting that will enable painters with some experience to develop greater confidence and a more professional attitude to their work.
Successful watercolours require something more than simply good technique, important though this is. Often it is the artist's attitude to their work that can make the difference between a merely competent painting and one that really stands out from the crowd. Confidence is the key, and for the intermediate painter this comes not just by practising techniques but also by developing a deeper understanding of the underlying tenets of watercolour painting.
In this book Hazel Soan looks at the key secrets of watercolour painting that are often overlooked in the desire to capture likeness – these concern good materials, working practices, the nature of the medium, focusing on what is really important, choosing the right colours, balancing tones, developing confidence, knowing when your work is finished, and how to exhibit it. Plenty of practical exercises, projects, step-by-step demonstrations and studio tips are included to help you to build up confidence in your skills. In addition to Hazel's evocative watercolours, the work of several guest artists is also featured, including Mike Chaplin, John Yardley, Shirley Trevena, John Lidzey and Jenny Wheatley.