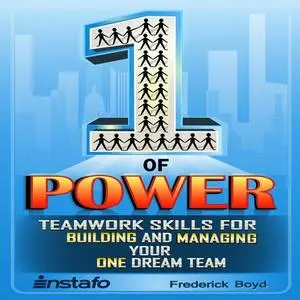 «The One of Power» by Instafo, Frederick Boyd
English | MP3@192 kbps | 30 min | 42.4 MB
One Power for All, All for One Team…the Power of TeamworkThe power of teamwork is not one to be sneezed at. Especially in today work's environment, you will need to work well and get along with others in order to strive for a common goal.Yet, there are those who still prefer to be the lone wolf of the pack…and that person may even be you or somebody you work with.After all, why work in a team when you can work by yourself and have full free reign and control to do whatever you want 100% to your liking without others' interference?* Firstly, it's not always about you…in fact, it should never be about one's personal self-interests.* Secondly, one as a TEAM can accomplish more than one as an INDIVIDUAL. That much is obvious that you'll get more done in less time.Then why aren't more people team players?There are common problems that can arise from working on any team, thus making certain folks loathe it or avoid it due to multiple huge egos, clashing personalities, disagreeable approaches, different thinking styles, or simply one's natural introversion…all of which are understandable.As much we would like to take pride in our self-sufficient independence, we are still humans and can't do everything by ourselves. We all need a helping hand once in a while, so utilize your strengths and delegate your weaknesses. This particularly rings true for any leadership or team management role requiring handling and pulling a group of people together as one.Then how do you get people who have strengths in different areas to eagerly collaborate with everybody else as a unified team to achieve success? This type of leadership power for effective teamwork can be found in "The One of Power."The "one of power" is indeed your "one team" that when united can bring about unlimited power to work miracles. Above all else, the feeling of universal camaraderie from working together will make it all that much more rewarding. Have your dream team now!