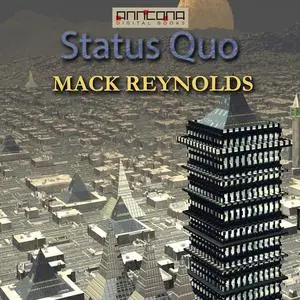 «Status Quo» by Mack Reynolds
English | MP3@192 kbps | 3h 07m | 258.1 MB
Status Quo is a science fiction novella by American author Mack Reynolds, first published in 1962. Status Quo was nominated for the 1962 Hugo Award for short fiction.
Larry Woolford is a government agent, tasked with investigating subversive activity. He does everything an ambitious young man should do if he wants to succeed: wear the right clothes, listen to the right music, even drink vodka martinis.
Then he stumbles across a conspiracy of Weirds plotting to overthow the entire existing social order. It's a race against time.
Can he stop their fiendish plan, and keep America safe for shallow judgements based on status symbols?
Status Quo was first published in Analog Science Fact & Fiction August 1961.
Total Running Time (TRT): 3 hours, 7 min. Reading by Peter Eastman.
Dallas McCord "Mack" Reynolds (1917-1983) was an American science fiction writer. His pen names included Dallas Ross, Mark Mallory, Clark Collins, Dallas Rose, Guy McCord, Maxine Reynolds, Bob Belmont, and Todd Harding.
His work is noteworthy for its focus on socioeconomic speculation, usually expressed in thought-provoking explorations of Utopian societies from a radical, sometime satiric, perspective. He was a considerably popular author from the 1950s to the 1970s, especially with readers of science fiction and fantasy magazines.
Reynolds was the first author to write an original novel based upon the 1966-1969 NBC television series Star Trek, named Mission to Horatius (1968).