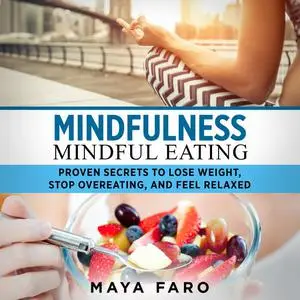 «Mindfulness - Mindful Eating» by Maya Faro
English | MP3@192 kbps | 1h 34m | 129.4 MB
Sick and tired of stress, emotional eating, overeating and diets that don't work?
You have come to the right place.
It's not about torturing yourself with horrible stress that most weight loss diets usually cause.
It's about mastering one simple secret of mindful eating so that you can enjoy your food, feel calm and confident that you are achieving your health goals like you have always wanted!
You are just about to discover the power of mindful eating and change your relationship with food!
Here's a short preview of what you will learn with this audiobook:
What is mindfulness and how can a busy person practice itWhat most diet gurus overlookThe important connection with emotionsMind & body benefits of mindfulness and meditationSpiritual awakening with mindfulnessEmotional healing with simple mindful techniquesBest mindfulness tips for long-term changeHow to be mindful and love itMindful expressions & affirmations to experiment withThe fascinatingly complex business of food and eatingTransforming your relationship with food with proven secretsTransforming the cycle of emotional eatingHolistic ways to manage negative emotionsMindful eating in a mindful lifeBoost your health look amazing with mindfulness
Order Your Copy Today and Start Transforming Your Health with Mindful Eating!