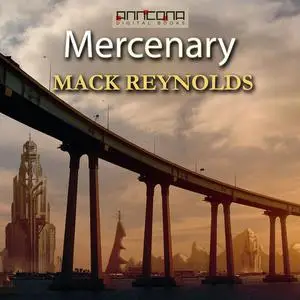 «Mercenary» by Mack Reynolds
English | MP3@192 kbps | 2h 32m | 209.6 MB
Mercenary is a science fiction novella by American author Mack Reynolds, first published in 1962. It is the first in a series about Joe Mauser, a soldier in a rigid, caste-based society that makes it very difficult to better oneself.
Every status-quo-caste society in history has left open two roads to rise above your caste: The Priest and The Warrior.
But in a society of TV and tranquilizers–the Warrior acquires a strange new meaning…
Mercenary is one of a series Reynolds did under the general title "Frigid Fracas". The US and the Soviet bloc have recognized common interests and become much like each other. A world peace has been imposed, and weapons development strictly limited.
The US has what is called "People's Capitalism", with everyone issued Basic shares at birth and able to earn Variable shares in various manners. The social structure has stratified into Lowers, Middles, and Uppers based on shares held.
The protagonist is a Major in Category Military, hiring out to fight in various clashes. Corporations which cannot resolve differences by other means hire mercenary troops to fight for them. Combat is restricted to use of weapons designed before 1900, and the clashes are televised for the entertainment of the masses.
Mercenary was first published in Analog April 1962.
Total Running Time (TRT): 2 hours, 32 min. Reading by Mark Nelson. 
Dallas McCord "Mack" Reynolds (1917-1983) was an American science fiction writer. His pen names included Dallas Ross, Mark Mallory, Clark Collins, Dallas Rose, Guy McCord, Maxine Reynolds, Bob Belmont, and Todd Harding.
His work is noteworthy for its focus on socioeconomic speculation, usually expressed in thought-provoking explorations of Utopian societies from a radical, sometime satiric, perspective. He was a considerably popular author from the 1950s to the 1970s, especially with readers of science fiction and fantasy magazines.
Reynolds was the first author to write an original novel based upon the 1966-1969 NBC television series Star Trek, named Mission to Horatius (1968).