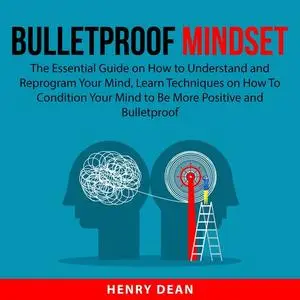 «Bulletproof Mindset» by Henry Dean
English | MP3@192 kbps | 34 min | 48.1 MB
Bulletproof Mindset: The Essential Guide on How to Understand and Reprogram Your Mind, Learn Techniques on How To Condition Your Mind to Be More Positive and Bulletproof
The way your mind works has a lot to do with your past, whether you're aware of it or not. You don't need to have a tragic childhood to have had some trauma that prevents you from making it to your full potential. Your mind may have put up its own shield to protect you from your traumas. Humans have evolved to be creatures of survival, so these survival tactics have stayed in our minds, but in modern society, there are sometimes where we need to drop our shields and go in unarmored.
A true bulletproof mind doesn't need protection from the mental bullets life throws at you. When you have shields up, you become overly calculative. A bulletproof mind questions things but doesn't hold you back when you need to dive in and take that risk.
This audiobook will help you understand and reprogram your mind. Learn how to condition your mind to be more bulletproof and positive.
Here is the preview of what you'll learn in this audiobook:
Conditioning Your MindConfront And Deal With Your Inner Demons Once And For AlAwaken Your Unconscious BehaviorReclaim The Empathy And Kindness That Is Lost Within YouWhat Is The Purpose Of Your Life?Simple Yet Effective Ways To Eliminate The Negative EnergyThe Key Elements to DecisivenessWhy Stop There, When Greatness Is Just One Step Away?Leave No Man BehindYour Journey Has Just BegunA bulletproof mind makes purposes and puts in all the effort to accomplish them. If you want to know more, download this audiobook,
Bulletproof Mindset
now!