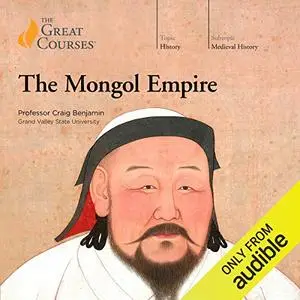 Craig Benjamin (Author, Narrator), The Great Courses, "The Mongol Empire"
English | ASIN: B08B46KVGC | 2020 | MP3@96 kbps | ~11:34:00 | 492 MB
The Mongol Empire was the largest empire the world has ever seen, forged by conquests across Eurasia in the 13th and 14th centuries. Yet despite the unparalleled brutality of the Mongols, they played a key role in launching civilization's evolution into the modern world. In 24 half-hour lectures delivered by award-winning teacher and historian Craig Benjamin of Grand Valley State University, explore the paradox of the Mongols' extreme barbarity combined with their enlightened religious attitudes and respect for high civilization, in The Mongol Empire.
Professor Benjamin recounts the life of the most notorious Mongol of all, Chinggis Khan (also spelled Genghis Khan). He details the careers of other Great Khans, including Qubilai, Ogedai, Batu, and Hulagu, plus the saga of the last of the celebrated Mongol conquerors, Timur, also known as Tamerlane. You learn about the prehistoric origins of the Mongol nomads, the secret of Mongol military prowess, the Mongols' remote capital of Karakorum, and the many great cities and empires they sacked in a virtually unbroken string of victories stretching from Hungary to China.
Even today, the Mongol conquerors are almost as shrouded in mystery as they were for the victims of their sudden raids. Yet their empire was crucial to the fate of the religions of Islam and Orthodox Christianity and to the civilization of China. Plus, the long period of stability they brought to Central Asia opened the door to dependable commercial and cultural ties between Europe and East Asia.