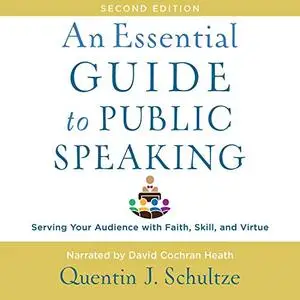 Quentin J. Schultze, David Cochran Heath (Narrator), "An Essential Guide to Public Speaking, 2nd edition: Serving Your Audience with Faith, Skill, and Virtue"
English | ASIN: B08642X9B6 | 2020 | M4B@128 kbps | ~07:20:00 | 412 MB
Communication expert and popular speaker Quentin Schultze offers a practical, accessible, and inspiring guide to public speaking, showing readers how to serve their audiences with faith, skill, and virtue.
This thoroughly rewritten and expanded edition has been tested and revised with input from Christian undergraduates and contains new chapters on timely topics, such as speaking for video, conducting group presentations, and engaging society civilly.
A complete public speaking textbook for Christian universities, it includes helpful sidebars, tips, and appendixes.